Turn-Key Activities:
NRE Activity:
Instruction writing: Incoming Inspection, Assembly Instructions, final test inspection, packing instructions, root card, reports et cetera.
Cataloguing and document all components in Chaban Medical's MRP system.
Locate suppliers according to customer demands.
DFM – design for manufacturing.
Product validation support.
Develop and manufacture product ATE (Automatic Test Equipment).
Support with products development, redesign and upgrade demands.

RE Activities:
Components purchasing.
Incoming inspection + storage.
PCB & SMT services (Using strategic partner)
In-House electric & mechanical assemblies.
In-House wiring.
Clean Room (ISO-7, Class-10,000) manufacturing.
QA, QC.
Packing.
Supply & Warranty.
Electric Medical Device Assembly
Oxy-Tec 5/5S Oxygen Concentrator: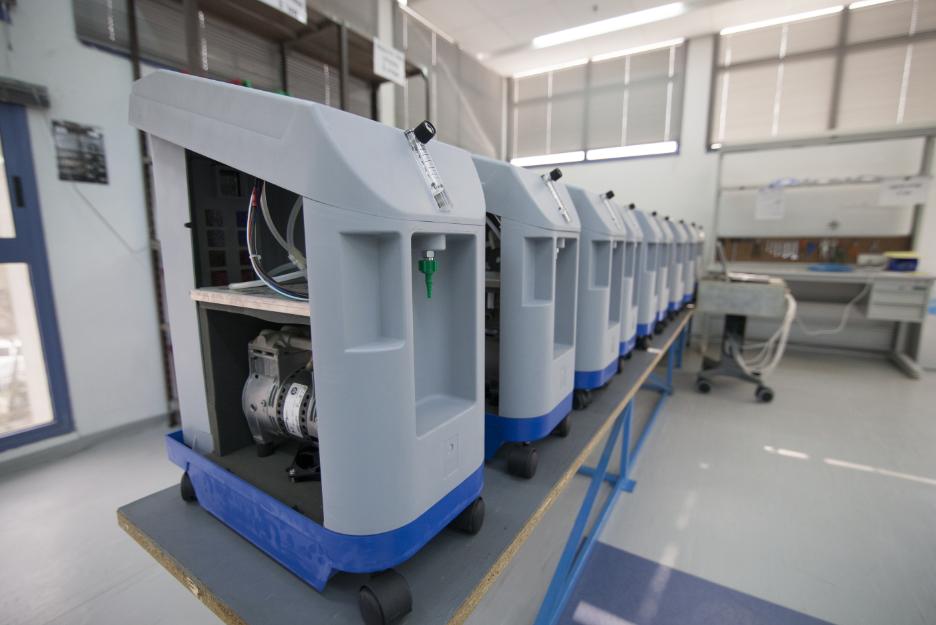 The Oxy-Tec 5 oxygen concentrator, to which Chaban Medical holds all rights, is a patient-administered, continuously working homecare product, stationery or mobile, for chronic obstructive lung disease (COLD). Oxy-Tec 5 is intended for use by the patient outside the medical clinic or hospital, in the continually developing realm of homecare medical treatment.
The Chaban Group's superior engineering capabilities enabled the transfer and incorporation of the Oxy-Tec5 from Y.S.M. to the ongoing, in-house production line. In addition, the Chaban team of engineers—mechanical, electrical, production and even design engineers—upgraded the device to a high-quality, competitive product.
The new Oxy-Tec 5 version oxygen concentrator has been specially developed to provide a dependable, convenient source of supplemental oxygen for therapeutic needs.
Suitable for both children and adults, Oxy-Tec 5S offers concentration up to 96% and flow rates reaching 5 LPM.
Oxy-Tec 5/5S Oxygen Concentrator:
The new Oxy-Tec 5 version oxygen concentrator has been specially developed to provide a dependable, convenient source of supplemental oxygen for therapeutic needs.
Suitable for both children and adults, Oxy-Tec 5S offers concentration up to 96% and flow rates reaching 5 LPM.
Oxy-Tec 5S separates and concentrates oxygen from ambient room air for delivery to a patient requiring low flow oxygen therapy. Oxygen from the air is concentrated using a process of molecular sieves and a pressure alternating system.
Convenient and lightweight, Oxy-Tec 5S eliminates the need to drag around bulky, unmanageable oxygen cylinders and their refill cylinders.
The Oxy-Tec 5S Advantages:
Chaban Medical's Oxy-Tec 5S offers users essential advantages that contribute to better health and quality of life. Oxy-Tec 5S can be conveniently used in home care settings, hospitals, clinics, and assisted living centers/nursing homes.
- Unique design, awarded with the Certificate of Design Patent .
- Comfortable-to-use, take-along device that can go almost anywhere.
- Lightweight (only 15.9 kg), quiet (less than 45dB), reliable (94% AVG oxygen purity).
- User friendly, operates 24 hours continuously.
- Easy-to-read electronic control panel –with LCD display including audio and visual alarm. - system indicating low oxygen concentration, power off, pressure circulation fault and
compressor fault.
- Minimal power consumption.
- Controlled oxygen output – from 0.1 to 5.0 LPM. Strong, durable ABS shell with
convenient access for filter cleaning.
- For use in homecare, hospitals, clinics, assisted living centers/nursing homes.

Pressure Regulator,Omrix/Johnson&Johnson:
The product is a pressure regulating system for the flow of medical sealant to close the surgical site, as an alternative to the use of stitches.
Chaban Group's high-level engineering capacity made possible the transfer and incorporation of the product from Y.S.M. to an in-house, continuous production line. Moreover, Chaban upgraded the mechanical and production aspects to provide a quality product, reliable and safe for use.
Today, the pressure regulator system is fully manufactured, ship-to-stock, by Chaban Medical, starting with ordering and receiving the materials, followed by large quantity, step-by-step production, packing and shipping.
Both the engineering and the production sectors of Chaban contribute to the professional, accessible collaboration involved in the many requirements for upgrading, modifying and improving the product. Design, development testing, and proof of effectiveness procedures are organized and controlled, all working toward smoothly revamping the system within an especially short deadline.

Aquatherm System – T200, Gyrus ACMI (a subsidiary of Olympus Corporation)
The T-200 console, developed by the Israeli
company Argomed (no longer in operation), was previously manufactured by Chaban. The product provides innovative treatment of prostate
problems. As a result of Chaban engineers' top- quality abilities, the T-200, received in the
prototype stage, was upgraded in-house—
including mechanical, electrical, software, and
production aspects—to ultimately make the T200 maintainable, reproducible, and economically
viable for the customer.
The T-200 console was manufactured for the
American ACMI company, according to a long
term contract. It consists of a unique combination of standard off-the-shelf components, including an SBC card with a 128 MB flash memory. In
addition, several sampling and control cards that
were developed for the medical device were
integrated within the electronics enclosure. The
medical device also includes a pump (motor), an
external sensor responsible for sensing the water temperature, an internal sensor for locating and
alerting in case of an abnormally high
temperature, and a set of internal cables.
A machined fiberglass structure and precision-milled mechanical components are combined to make a high quality, refined medical electronic assembly, provided the customer with the most reliable, first-rate product.
New-Life, Venus Concept
New-Life is an advanced system that uses BEAM™ (Bio Electrical Acceleration Management) technology to imitate the body's bio electrical process by sending pre-defined electrical pulses through the nervous system. Developed by Venus Technologies Israel, the safe, non-invasive system is assembled by Chaban Medical.
The New-Life system activates specific muscles and muscle groups to stimulate blood circulation and increase metabolism according to the client's request.
Components of the New-Life system that were manufactured for Venus by assorted subcontractors were fully assembled at Chaban Medical, where final product approval testing (mechanical and electronic) was also conducted.